Learn How To Screen Print With Catspit Productions, LLC


Jonathan Monaco Author Biography
---
---
The articles that appear on this website were written by Jonathan Monaco, owner of Catspit Productions, LLC. Jonathan has a Bachelor of Fine Arts Degree with Specialization in Photography and Screen Printing. He has over 20 years of manual and automatic screen printing experience. Jon has worked in several screen print shops in New York and Arizona and is well connected in the industry.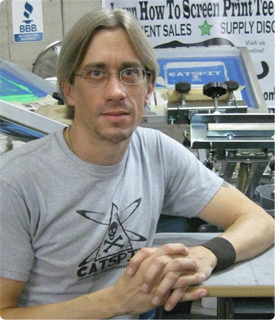 During his time at Arizona State University, Jonathan was published in Photographer's Forum Magazine twice. He also exhibited extensively in the Tempe area. After graduation, Jonathan moved to New York and began his career in studio photography all the while working with his brother at his screen printing shop in upstate New York.
Jonathan's involvement in screen printing actually started when he was 11 years old when he printed his first shirts with his uncle in the basement. They used a handmade, wooden, table top press built by his uncle. Jonathan's family has been deeply involved in different aspects of the screen printing industry since before he was born.
Jonathan has worked extensively in screen printing and studio photography. Jonathan has made photographs for such companies as: Fitz & Floyd, Citarella, Sharper Image, Cabela's and more. Most of these photographs were catalog style product shots. He has also done photography work for The New York Marathon. Jon worked with well known photographer Len Prince during the time he was employed at a catalog studio in Manhattan as well.
After the September 11th terrorist attacks on Manhattan, Jonathan moved to Arizona to be with his aging mother and return to a more simple life.
"For me, true wealth is about happiness. And I need mental health to be happy. So, I have what may seem to be meager goals and desires. But it is a reflection of my now utilitarianism and minimalistic way of life. I am satisfied with sustenance and I am no longer chasing more than I need."
Jonathan is now concentrating on building a screen printing business that covers all aspects of the industry. Education and free screen printing informational resources are a big part of this.
"I would love to build a school of screen printing that ultimately focuses on education and employment rather than equipment and supplies sales."
---
---