Learn How To Screen Print With Catspit Productions, LLC


Donations
---
---
Catspit Productions produces educational videos and offers advice or technical support free of charge by email. All of the videos, website articles and question responses are done by Jonathan Monaco in his free time.
Help keep Jonathan hard at work creating new free educational screen printing material for the website and the YouTube channel. You can support the Catspit Productions online educational and tutorial efforts by making a small donation. Please use the PayPal button below to donate $5 or $10 to fund Jonathan's efforts to provide continued free screenprinting resources.
You can also support the project by purchasing screen printing supplies from us. Make sure to use the correct Catspit code to get your discount. These purchases help keep our vendors supporting our project. And it helps keep the discount deals coming.
Jonathan appreciates any purchases or business you do with Catspit Productions. Without your continued support, he would not be able to devote so much time to providing free information about screen printing tee shirts for fun or for profit.
---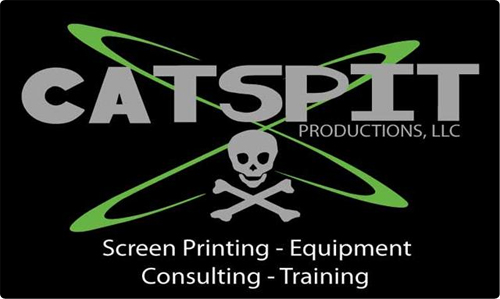 We appreciate your interest in Catspit Productions, LLC. Thank you for all the positive feedback and your continued support!