Learn How To Screen Print With Catspit Productions, LLC


Some Information About Catspit Productions, LLC:
---
---
Catspit Productions was a full service screen printing shop that morphed into an equipment and supplies dealer. Through our YouTube videos we began teaching people to screen print tee shirts online for free. As a result of their wild popularity people began asking us for equipment and supplies to screen print. It was a logical next step for us to take in offering the same supplies and equipment we feature in our YouTube videos. As people asked us where to purchase screenprinting products we began to fulfill that need. Today we sell a complete line of screen printing equipment and supplies online and locally right here in the Phoenix Arizona area. We are the only Ranar dealer in the world to offer free shipping on all Ranar equipment all year round anywhere in the continental United States. Make sure to visit CatspitProductions on YouTube for informational videos on screen printing.
The public storefront is now open and located at:
Catspit Productions, LLC
4219 South 37th Street
Phoenix, AZ 85040
Our hours are: M-F 9AM to 5PM
---
Our Goal: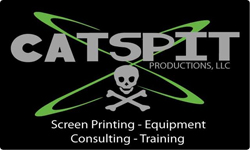 Catspit Productions is committed to providing relatively unbiased information about screen printing. The entire YouTube channel and all of the website content is created by Jonathan Monaco in his spare time using easy to use online services. Jonathan does not know HTML nor is he an expert webmaster.
Despite the limitations of our venue we are trying to give you the clearest and most comprehensive explanations of the textile screen printing process. It is also our wish to teach the differences between commercial printing and home based printing by showing you how Catspit Productions prints tee shirts commercially.
Catspit Productions offers educational articles, information and tutorial videos free of charge. We also sell screenprinting supplies and equipment on our ecommerce site at CatspitScreenPrintSupply.com. Please help support our free educational efforts online by visiting our web store and reviewing our offerings. We're an authorized RANAR, Saati, RhinoTech, and MacDermid Autotype dealer. If you don't see it anywhere on our websites please contact us for assistance.
It is our hope that you will find the information and resources on our website or on the YouTube channel useful in your business efforts. We also want home based screen printers to be able to easily understand the technical aspects of the process so that they may better adapt their home printing methods.
Ultimately we love to teach and share information. We want to become a valuable screen printing informational resource. If you have any questions, comments or suggestions for website content, please feel free to contact us.

---
About the Catspit name and skull & bones logo:
A Personal Note From Jonathan:
In December of 1989 I was just beginning college at Arizona State University. I had moved to Mesa from New York City to stay with my Mother and go to school. I was new to the area and had few friends. I spent much of my time working on my degree alone and I thought it would be nice to get a fury little friend.
I found a 6 week old all black female kitten in a local pet store in a 10 gallon fish tank with her brother. I took her home and named her Swan Song after the recording label of my favorite band. The name also has its own iconic meaning in literature.
Over the years we spent together I noticed how when I would pet her and give her love she would salivate excessively and shake her head like a dog throwing the spit everywhere. And I mean a lot of spit, all over the place. Yes, Catspit!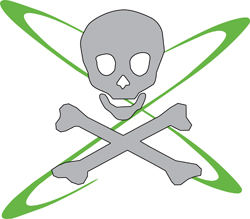 So when I came to form the business on paper, I named It Catspit Productions with the inspiration coming from my now adult cat Swan Song. That explains the name.
In May of 2008 my apartment burned down and Swan Song died from smoke inhalation. She was 18 years old. I was devastated. I had never thought of her not being around. About this time I was playing with logos for my business and I wanted it to be something meaningful. Since the business was already named with inspiration from Swan Song, I took the next logical step.
That is where the skull and cross bones come in. It is a tribute to the death of my longtime companion and friend, Swan Song. The two green swirls in the back are representative of the two electron orbits of the number two element, Helium which is the fuel for stars.
For me, being an amateur scientist, astronomer and physicist, the skull and bones with the two electron orbits of Helium represents life and death. It represents the life and death of Swan Song.
There isn't any hidden message or secret meaning; just a design in memory of an old friend. Don't worry; your shirts won't be delivered in a privateer either. Ahoy!
---
---
An Interview With Jonathan: Catspit Productions on 1100AM KFNX Phoenix