Learn How To Screen Print With Catspit Productions, LLC


Welcome to the wild west!

Make sure to check out the wild west gunfight videos at the bottom of the page!!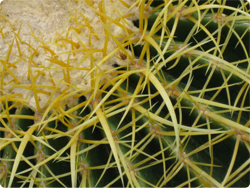 Catspit Productions, LLC is based in Phoenix, Arizona. The weather here is normally very sunny and dry. The Phoenix area is a haven for many printers of all types because the climate is perfect for printing. Some screen printers here actually use the bright Arizona sunshine to expose oversized screens as well as smaller ones.
However, the intense heat and unrelenting sun can be very dangerous. Sunburn can be severe and dehydration is a common occurrence even with residents of this desert state. Drinking plenty of water is an absolute must if you plan on surviving this region. Oh. and, yes, it is a very good idea to have air conditioning in your home and vehicle too.
The state of Arizona is steeped in South Western lore and Native American culture. Some of the last true American Cowboys live and work here. You can find horse stables and running tracks within the confines of the inner city limits of Phoenix, Mesa, Gilbert, Tempe, and Chandler.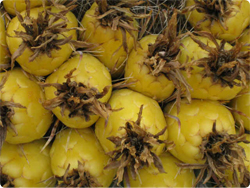 Phoenix is a very spread out city. Here they build low and outward in all directions. There is a small cluster of "high rises" in Central Phoenix. You will also find other various size multi story buildings throughout the Valley of the Sun. Phoenix and its surrounding areas make up a very diverse and large metropolitan city.
The types of neighborhoods can vary greatly within a few blocks or even a stop light. Barrios are scattered in and through the communities. There is a lot of local culture to be found here. Arizona has long been considered a sacred, spiritual, and special land.
Take a look at where Catspit Productions is located and get a feel for our home.
---
State Flag: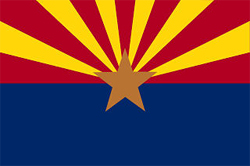 The flag was designed by Charles W. Harris and first sewn by Nan D. Hayden. Blue and yellow are the Arizona colors and red and yellow the colors of the Spanish Conquistadores headed by Coronado who first came to Arizona in 1540. The copper star represents Arizona as the largest producer of copper in the nation.
Arizona Facts and Trivia:
Arizona is a right-to-work state. The law states no person shall be denied the opportunity to obtain or retain employment because of non-membership in a labor organization.
The saguaro cactus blossom is the official state flower. The white flower blooms on the tips of the saguaro cactus during May and June. The saguaro is the largest American cactus.
Arizona leads the nation in copper production.
Arizona is home of the Grand Canyon National Park.
The amount of copper on the roof of the Capitol building is equivalent to 4,800,000 pennies.
Arizona observes Mountain Standard Time on a year round basis. The one exception is the Navajo Nation, located in the northeast corner of the state, which observes the daylight savings time change.
The battleship USS Arizona was named in honor of the state. It was commissioned in 1913 and launched in 1915 from the Brooklyn Navy Yard.
In 1926, the Southern Pacific Railroad connected Arizona with the eastern states.
Arizona's most abundant mineral is copper.
The state's most popular natural wonders include the Grand Canyon, Havasu Canyon, Grand Canyon Caves, Lake Powell/Rainbow Bridge, Petrified Forest/Painted Desert, Monument Valley, Sunset Crater, Meteor Crater, Sedona Oak Creek Canyon, Salt River Canyon, Superstition Mountains, Picacho Peak State Park, Saguaro National Park, Chiricahua National Monument, and the Colorado River.
The original London Bridge was shipped stone-by-stone and reconstructed in Lake Havasu City.
The capital of the Navajo Reservation is Window Rock.
The state's precipitation varies. At Flagstaff the annual average is 18.31 inches; Phoenix averages 7.64 inches; and Yuma's annual average is 3.27 inches.
Crops include 2%; pastureland 57%; forests 24%; and other uses are 17% in land-use designation.
The colors blue and gold are the official state colors.
The age of a saguaro cactus is determined by its height.
Arizona, among all the states, has the largest percentage of its land set aside and designated as Indian lands.
Rising to a height of 12,643 feet, Mount Humphreys north of Flagstaff is the state's highest mountain.
The Hopi Indians of Arizona are noted for growing their multicolored corn.
Barry Goldwater, a famous public official, senator, and presidential candidate was born in Phoenix.
In 1939 architect Frank Lloyd Wright's studio, Taliesin West, was built near Phoenix.
Arizona became the 48th state on February 14, 1912.
The world's largest solar telescope is located at Kitts Peak National Observatory in the city of Sells.
---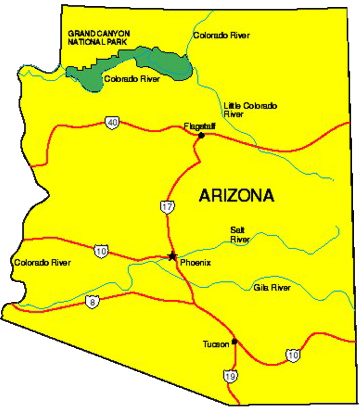 Capital: Phoenix
Year of Statehood: 1912
State abbreviation/Postal code: Ariz. /AZ
U.S. Representatives: 8
Organized as territory: Feb. 24, 1863
Entered Union (rank): Feb. 14, 1912 (48)
Present constitution adopted: 1911
Motto: Ditat Deus (God enriches)

flower
bird
colors
song
tree
neckwear
fossil
gemstone
mammal
reptile
fish
amphibian
butterfly
flower of saguaro cactus (1931)
cactus wren (1931)
blue and old gold (1915)
"Arizona" (1919)
Palo Verde (1954)
bola tie (1971)
petrified wood (1988)
turquoise (1974)
ringtail (1986)
Arizona ridge nose rattlesnake (1986)
Arizona trout (1986)
Arizona tree frog (1986)
two-tailed swallowtail (2001)
Nickname: Grand Canyon State
Origin of name: Uncertain. Perhaps from the O'odham Indian word for "little spring"
10 largest cities (2005 est.): Phoenix, 1,461,575; Tucson, 515,526; Mesa, 442,780; Glendale, 239,435; Chandler, 234,939; Scottsdale, 226,013; Gilbert, 173,989; Tempe, 161,143; Peoria, 138,200; Yuma, 84,688
Land area: 113,635 sq mi. (294,315 sq km)
Geographic center: In Yavapai Co., 55 mi. ESE of Prescott
Number of counties: 15
Largest county by population and area: Maricopa, 3,635,528 (2005); Coconino, 18,562 sq mi.
State parks: 28
Residents: Arizonan, Arizonian
2007 resident population est.: 6,338,755
---
---
"Gun Fight!"
Catspit Productions Presents - The Wild West: "Gun Fight!" and "Gunfight 2, The Hiest!". Full featured videos of old west gun shoot out reenactments.
Welcome to the Wild West, brought to you by Catspit Productions, LLC. Goldfield Ghost Town is located about 30 minutes away from where we are located. This video is from their old west gun fight reenactment. The town is based on an actual gold mine from the 1890's. It's a pretty cool little tourist attraction. There isn't any admission fee just to walk around. There are many things to do and see here.
---
---