Screen Printing Equipment Sales


Manual Screen Printing Equipment & Heat Presses
---
Please read the information below before continuing to the equipment:
A Personal Note From Jonathan:
Catspit Productions has teamed up with RANAR to bring you great screen printing equipment at reasonable prices. This is the very same equipment I use in my shop. I really love to be able to sell the very equipment I use myself. I think that is something you don't find often. Especially today where most people selling screen printing equipment have never screen printed tee shirts for a living. So if you are in the market for equipment, please contact me. I'd love the opportunity to help you buy what you need.
Please make sure you are seriously interested in starting a screen printing business before you proceed any further. Catspit Productions is not trying to take advantage of the startup printer. If you have any questions, please feel free to ask and I will answer your questions in detail whether or not you are considering a purchase.
See the video at the bottom of the page for a personal note from Jonathan.
Don't forget to visit the Print Supplies page for discounts on Saati chemicals and much more!
We sell the complete line of RANAR equipment and accessories. Please call us for sales assistance, 480-899-9089.
---

RANAR screen printing equipment is very affordable and well built. The simple yet durable and reliable design is an advantage for new business ventures. RANAR offers a complete line of floor presses as well as bench press models.
You can purchase everything from exposure units to belt dryers and much more. They can even equip your entire shop with one of their complete shop packages. It gets better; the Vista series floor presses in the 1 station model are upgradeable and expandable. A 6 color, 1 station press may be upgraded to 6 station in the future as your business grows. There are many economically feasible equipment options with RANAR screenprinting equipment. The following items are listed: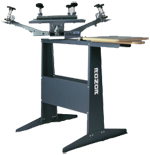 RANAR 6 Color / 6 Station Rotary Press Micro Registartion - E-6600
RANAR 6 Color / 6 Station Rotary Press Micro Registartion - V-6600
RANAR 4 Color / 4 Station Rotary Press Micro Registartion - V-4400
RANAR 6 Color / 1 Station Rotary Press Micro Registartion - V-6100
RANAR 4 Color / 1 Station Rotary Press Micro Registartion - V-4100
RANAR Econo Series Bench Presses - P110BT/P250BT/P405BT
RANAR 16 X 16 Infrared Flash Cure Unit
Curestar 4000 8' Belt Dryer
Scamp DX200 5' Belt Dryer
XPO-2426 Vacuum Exposure Unit
CBX 2024 Exposure Unit
Econo Washout Booth
Adjustable Screen Rack
Home Self Starter Kit
The Hobby Kit
Basic Home Printing Kit
Entrepreneur's Starter Kit
Junior Printer's Package
Garage Boy Kit
Small Business Start Up Package
Explore RANAR Screen Printing Equipment
Explore RANAR Entry Level Shop Packages
---

RiCOMA heat press equipment. These are imported presses that are priced for entry level shirt decorators. They are reliable and affordable. Simple designs make them great for transferring tee shirts, mugs, hats, plates, and more. RiCOMA makes flat bed presses as well as all in one's. Make your own digital heat transferred shirts or other transfer applications. The following items are listed: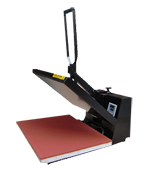 RiCOMA Clamshell Heat Press - 15" X 15"
RiCOMA Clamshell Heat Press - 20" X 16"
RiCOMA Clamshell Heat Press - 24" X 16"
RiCOMA Baseball Cap Heat Press - HP-1508T
RiCOMA Mug Heat Press
Explore RiCOMA Heat Press Equipment
---
If you feel your needs exceed the products listed here, please contact us for more information. And as always if you have any questions about the equipment or purchases, don't hesitate to get in touch with us. Thanks for considering doing business with us. We appreciate your patronage very much.