Heat Press Equipment
---
Please read the information below before continuing to the equipment:
A Personal Note From Jonathan:

This heat press equipment has the base functions I would recommend balanced with price. There are many offers for startup kits on the internet.
In my opinion it is better to buy quality, durable equipment that will grow with you. Be careful that all inclusive kits have decent equipment. Some do, many don't. Be especially watchful of imported kits. Quality should be preferred over quantity.
Please make sure you are seriously interested in starting a heat transfer business before you proceed any further. Catspit Productions is not trying to take advantage of the startup garment decorator.If you have any questions, please feel free to ask and I will answer your questions in detail whether or not you are considering a purchase. If you are looking for equipment other than what is below, please contact me and I will help you out with anything you may need.

Illustration Of The Computer Heat Transfer Process From Start To Finish
Please call us for sales assistance, 480-899-9089.
---
RiCOMA Clamshell Heat Press- HP-3838H/HP-5040H/HP-6040H
Rugged and durable for years of trouble-free performance
Use to transfer onto T-shirts, sweatshirts, mouse pads, license plates, magnetic material, bags, and much more!
Press items up to 1" thick
Thermometer for heat platen temperature
Adjustable thermostat
Heat indicating light
Silicone gel base board to endure temperature up to 575F without deforming
Pressure adjustable
Electronic time control
Electronic constant temperature control accuracy 4F
Safe, durable and economical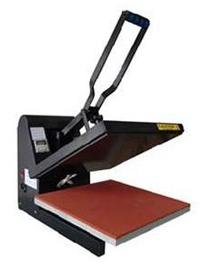 Specifications:
Voltage:110V/60Hz or 220V/50Hz
Power:2200W
Temperature range:0-428F
Time range:0-999s
Box size:73X46X38/78X58X42/78X68X41CM
28"X18"X15"/30"X23"X17"/30"X27"X16"
15" X 15" - $389.00 plus shipping
20" X 16" - $419.00 plus shipping
24" X 16" - $459.00 plus shipping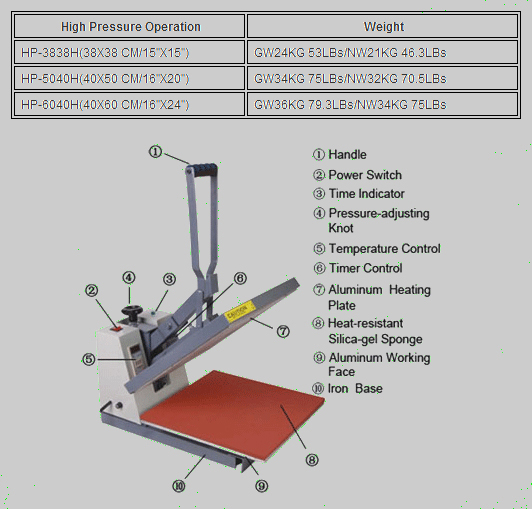 ---
RiCOMA Baseball Cap Heat Press - HP-1508T
4"x8.5"/10CM X 22CM Coated Heat Platen
3.5"x6"/8.9CM X 15CM standard lower platen
Auto Reset Timer
E-Z read temp. Gauge
Interchangeable platens
Scratch Resistant powder coat finish
Cap hold down device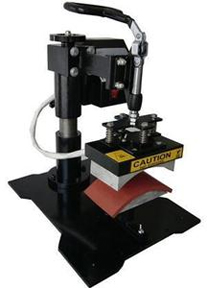 Specifications:
Voltage:110V/60Hz or 220V/50Hz
Power:420W
Temperature range:0-428F
Time range:0-999s
Worktable Size:15X8CM/6"X3"
Weight:GW15KG/33LBs / NW12KG/26.4LBs
Box size:CTN Measure:44X34X60CM/17"X13"X24"
Hat Press - $249.00 plus shipping
---
RiCOMA Mug Heat Press
Accurate top-to-bottom Heat Continuous heat around the mug Auto Reset Timer and LCD Readout Effective with all types of mug transfers Accommodates: 11, 15 & 16 oz. Mugs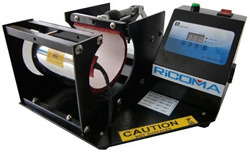 Specifications:
Voltage:110V/60Hz or 220V/50Hz
Power:350W
Temperature Range:0-428°F
Time Range:0-999s
Mug Press - $199.00 plus shipping
---
To inquire about purchases or get shipping costs for your zip code, please contact Catspit Productions.